Most Popular
America: Republic or Democracy?
A Brief History of the Democratic Party
Topics
Fascism Main Page (includes Hitler, Mussolini and others)
Catholicism and Fascism
Vatican Names Franco Era Fascist Saints
Francisco Franco, the Catholic Church and 2 Million Murders
Catholicism and Fascism
Pius XI and the Rise of General Franciso Franco
Franco's Spain, 1946-1960
Related
Pius XI and the Rise of Benito Mussolini
Pius XI and the Rise of Adolph Hitler
Pius XI and the Rise of Philippe Petain
Franco Gets Supreme Order of Christ
At Other Sites
Searching for the Children Franco Stole [February 28, 2009, New York Times]
http://www.memoriahistorica.org/ Spanish site uncovering the attrocities of the Spanish Civil War and Fascist era
Spain Under Franco at Wikipedia
White Terror (Spain) at Wikipedia
Concordat of 1953 between the Vatican and Spain at Wikipedia
Pact of Madrid between the United States of America and Spain in 1953 at Wikipedia
Overview
General Francisco Franco is important because he became the dictator of Spain just prior to World War II and continued to rule there until his death in 1975. Although the term fascist was used by Italian dictator Benito Mussolini and is applied to German dictator Adolf Hitler, it has become synonymous with Franco's government because he continued to rule long after his brother dictators were dead.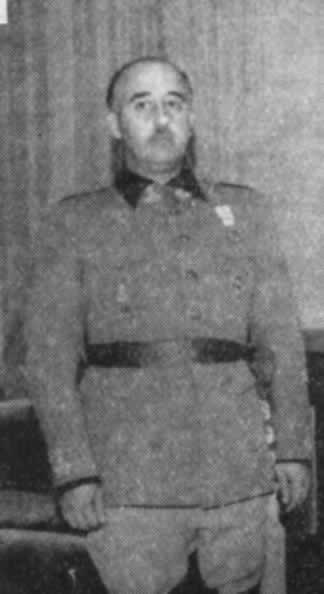 Francisco Paulino Hermenegildo Teodulo Franco y Bahamonde was born on December 4, 1892. He became a lieutenant in the Spanish Army in 1910, where he became known for his brutality in suppressing Moroccans fighting for independence from Spanish rule. He rose quickly through the ranks, becoming a general in 1926.
The civil war in Spain started out as a military coup against the elected republican government in July 1936. Franco was in charge of the Army of Africa at the time. Franco's reasons for joining the coup were complex; he was not the leader of the coup. But once his troops had defeated Republican loyalists in Africa and had been transported to Spain in Nazi airplanes, he was the most powerful man on the rebels' side.
Franco's troops declared victory in 1939, although guerilla resistance to his regime continued. Francisco Franco declared himself President and Head of State.
Franco was a firm believer in Catholicism and tried to exterminate non-Catholics in Spain both during and after the Civil War.
Spain's army was so weak that Hitler preferred that Spain remain neutral in World War II, rather that fighting with the Axis powers. This saved General Franco's life and regime. The Vatican's diplomatic corp were able to convince the Allies to continue to treat Spain as a neutral country and an ally in the war against communism and anarchism.
Franco's Spain was notable for its technological and intellectual backwardness as well as its executions of religious and political opponents.
General Franco died on November 20, 1975.